Qanat system, an ancient water management system in Iran: History, architectural design and fish diversity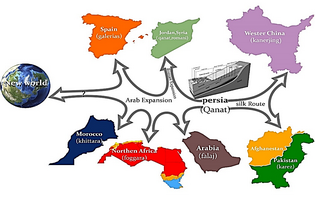 Downloads
Ancient Iran is one of the leading civilizations that actively appear to water resources management, especially by the invention of "Qanat", an artificial underground system/ subterranean tunnel-wells system where the water flows through gravity on a slight slope in arid and semi-arid regions at least 5000 years ago. Qanats were innovated in ancient Iran, spread throughout much of the Middle East, and extended into North Africa, Spain, Italy, and South Asia. Tools preparation, size selection, digging the first and deepest vertical shaft known as "mother-well", digging several other vertical shafts along a line between the mother-well and Qanat outlet, and constructing a horizontal connection between vertical shafts (known as the main tunnel), which guides the water out through an outlet, are the main steps in Qanat construction. By this innovation, Iranian solved their water-related problems using the basic concepts of Hydraulics. In the same way, water-related infrastructures were built using locally available materials to make a better life for humans and other wonderful well-designed and well-adapted organisms in dry and semi-dry regions, yielding great civilization with a simple, but a fantastic architecture that provides cold water in hot summer and warm water in cold winter. By means of these ancient underground structures, water was funneled from mountainous areas and aquifers to lower lands and thus alluvial fans could be opened up to settlement, and an agrarian civilization developed and evolved. In addition, Qanat provides a continual flow suitable for many aquatic organisms, including crabs, amphipods (gamarids), freshwater shrimps, and fishes. Qantas are home and refugia to about 42 fish species (36 native and 6 exotic species) belonging to 20 genera, 7 families, and 2 orders. The Qanat ichthyofauna is dominated by Cyprinidae with 19 species (45.2 %) followed by Leuciscidae and Nemacheilidae (6 species, 14.28% each), Poeciliidae and Aphaniidae (4 species, 9.52%), and Cobitidae (1 species 2.38%). It is about 14% of the total ichthyofauna of Iran. The Qanat ichthyofauna comprises 36 natives (including 20 endemics) and 6 exotic species. Qanat fauna dominates by species that are generally of small size, are broadcast spawners, nonmigratory, and have a wide tolerance of environmental conditions.
Esmaeili, G., Habibi, A., & Esmaeili, H. R. (2022). Qanat system, an ancient water management system in Iran: History, architectural design and fish diversity. International Journal of Aquatic Biology, 10(2), 131–144. Retrieved from https://ij-aquaticbiology.com/index.php/ijab/article/view/1515
Downloads
Download data is not yet available.
Alemohammad S.H., Gharari S. (2017). Qanat: An ancient invention for water management in Iran. In found in Proceedings of Water History Conference, Delft, The Netherlands. 10 p.
Armantrout N.B. (1980). The freshwater fishes of Iran. Ph.D. Thesis, Oregon State University, Corvallis, Oregon, USA.
Berking J., Oleson J.P., Sí¼rmelihindi G., Nenci E., Maganzani L., Ronin M. Schomberg A. (2019). Water management in ancient civilizations. Humboldt- universität zu Berlin.
Biancone V., Tusa S. (1997). I qanat dell'area centrosettentrionale della Piana di Palermo. Archeologia e territorio, Palumbo Editore, Palermo, 375-389.
Bonine M.E. (1982) From qanat to kort: traditional irrigation terminology and practices in central Iran. IRAN. British Institute Persian Studies, 20: 145-159.
Coad B.W. (1995). Freshwater fishes of Iran. Acta Scientiarum Naturalium Academiae Scientiarum Bohemicae, Brno 29(1): 1-64.
Coad B.W. (1996). Fishes from the qanats of Iran. Publicaciones Especiales Instituto EspanËœol de Oceanografı´a 21: 63-79.
Coad B.W. (2006). Endemicity in the freshwater fishes of Iran. Iranian Journal of Animal Biosystematics 1(1): 1-13.
De Feo G., Laureano P., Drusiani, R., Angelakis A.N. (2010). Water and wastewater management technologies through the centuries. Water Science and Technology: Water Supply, 10(3): 337-349.
Delson E. (2019). Early dispersal of modern humans from Africa to Greece. Nature. 571(7766): 487-488.
English P.W. (1966). City and village in Iran: settlement and economy in the Kirman basin. University of Wisconsin Press, Madison. 56 p.
English P.W. (1968). The origin and spread of qanats in the Old World. Proceedings of the American Philosophical Society, 112(3): 170-181.
Esmaeili H.R., Teimori A., Dehghani N. (2006). The Qanat habitat as a fish refuge. In: Euro-Arab Conference and Exhibition on Environment. Kuwait. pp: 145-153.
Esmaeili H.R., Coad B.W., Gholamifard A., Nazari N., Teimory A. (2010a). Annotated checklist of the freshwater fishes of Iran. Zoosystematica Rossica, 19: 361-386.
Esmaeili H.R., Gholamifard A., Teimori A., Bagh-Bani S., Coad B.W. (2010b). Xiphophorus hellerii Heckel, 1848 (Cyprinodontiformes, Poeciliidae), a newly introduced fish recorded from natural freshwaters of Iran. Journal of Applied Ichthyology, 26: 937-938.
Esmaeili H.R., Tahami M., Parsi B., Sayyadzadeh G., Hojati A. (2012). First report of qanat tailor fish, Alburnoides qanati Coad & Bogutskaya, 2009 (Actinoptyrygii: Cyprinidae) in Sirjan basin of Iran. Journal of Animal Environment, 4(2): 73-76.
Esmaeili H.R., Babai S., Gholamifard A., Pazira A., Gholamhosseini A. (2015). Fishes of the Persis region of Iran: an updated checklist and ichthyogeography. Iranian Journal of Ichthyology, 2(3): 201-223.
Esmaeili H.R., Mehraban H., Abbasi K., Keivany Y., Coad B.W. (2017a). Review and updated checklist of freshwater fishes of Iran: taxonomy, distribution and conservation status. Iranian Journal of Ichthyology, 4(1): 1-114.
Esmaeili H.R., Sayyadzadeh S., Eagderi S., Abbasi K. (2018). Checklist of freshwater fishes of Iran. FishTaxa, 3: 1-95.
Estaji H., Raith K. (2016). The role of Qanat and irrigation networks in the process of city formation and evolution in the central Plateau of Iran, the Case of Sabzevar. In Urban change in Iran. Springer, Cham. pp: 9-18.
Gholikandi G.B., Sadrzadeh M., Jamshidi S., Ebrahimi M. (2013). Water resource management in ancient Iran with emphasis on technological approaches: a cultural heritage. Water science and technology: Water Supply, 13(3): 582-589.
Hashemzadeh Segherloo I. (2015). Identification of Qanat fishes in Taft and Mehriz (Yazd-Iran) via DNA barcoding. Journal of Aquatic Ecology, 5(1): 120-113.
Karki M., Hill R., Xue D., Alangui W., Ichikawa, K., Bridgewater P. (2017). Knowing our lands and resources: indigenous and local knowledge and practices related to biodiversity and ecosystem services in Asia (Vol. 10). UNESCO Publishing.
Kheirabadi, M. (2000). Iranian cities: formation and development. Syracuse University Press. New York, USA.
Kuros G.R., Labbaf Khaneiki M.L. (2007). Water and irrigation techniques in Ancient Iran. Iranian National Committee on Irrigation and Drainage.
Labbaf Khaneiki M.L. (2019). Territorial water cooperation in the central plateau of Iran. Springer International Publishing.
Mahan A., Khorramrouei R., Nasiri A. (2019). Restoring the Qanats as a traditional water transfer system: a sustainable approach. International Journal of Architecture and Urban Development, 9(1): 35-42.
Mahmoudian S.A., Mahmoudian S.N. (2012). Water and water supply technologies in ancient Iran. Evolution of Water Supply through the Millennia, 91 p.
Manuel M., Lightfoot D., Fattahi, M. (2018). The sustainability of ancient water control techniques in Iran: an overview. Water History, 10(1): 13-30.
Mays L. (2010). Ancient water technologies. Springer Science and Business Media.
Moteahed F.S., Ghafoori M., Lashkaripour G.R., Moghaddas N.H. (2014). Evaluation of Qanat subsidence potential map in west of Mashhad City NE of Iran. Jordan Journal of Earth and Environmental Sciences, 6(1): 15-20.
Pollock S., Susan P. (1999). Ancient Mesopotamia (Vol. 1). Cambridge University Press. U.K.
Rezaei Tavabe K., Azarnivand H. (2013). Biodiversity in qanats (the case study of Kerman County, Iran). Desert, 18(2): 99-104.
Riehl S., Zeidi M., Conard N.J. (2013). Emergence of agriculture in the foothills of the Zagros Mountains of Iran. Science, 341(6141): 65-67.
Saatsaz M., Rezaie A. (2021). Water Resources Management, Technology, and Culture in Ancient Iran. Hydrology and Earth System Sciences Discussions, 1-40.
Saadati M.A.G. (1977). Taxonomy and distribution of the freshwater fishes of Iran. M.S. Thesis, Colorado State University, Fort Collins.
Salehi Moteahed F.S., Ghafoori M., Lashkaripour G.R., Moghaddas N.H. (2014). Evaluation of Qanat subsidence potential map in west of Mashhad City NE of Iran. Jordan Journal of Earth and Environmental Sciences, 6(1): 15-20.
Semsar Yazdi A.A., Labbaf Khaneiki M.L. (2016). Qanat knowledge: Construction and maintenance. Springer. The Netherlands.
Sparacio I., La Mantia T., Colomba M.S., Liberto F., Reitano A., Giglio S. (2017). Qanat, gebbie and water sources: the last refuge for the malacological freshwater fauna in Palermo (Sicily, Italy). Biodiversity Journal, 8: 279-310.
Tamburrino A. (2010). Water technology in ancient Mesopotamia. In: Ancient Water Technologies, Springer, Dordrecht. pp: 29-51.
Teimori A., Esmaeili H.R. (2020). Hormuz River System as a micro hotspot of diversification for the aphaniid fishes in Iran. Iranian Journal of Ichthyology, 7(2): 181-196.
Todaro P. (2002). Guida di Palermo sotterranea. L'Epos, Palermo. 171 p.
Copyright (c) 2022 International Journal of Aquatic Biology
This work is licensed under a Creative Commons Attribution 4.0 International License.